For the DJ's Spinning Vinyl, Beat Diggers, Hip Hop Culture, Vinyl (Record) Junkies, Fashion & Lifestyle.
Explicit Content - Parental Advisory
CHECK THIS WEEK'S FEATURED CD'S & MORE!
CHECK OUT SOHH DAILY HIP HOP NEWS!

DJ's, crate diggers & beat diggers: Click here for vinyl records on eBAY!
The Blog for DJ's still spinning vinyl worldwide!!
November 7, 2006
*** VOTE!! ***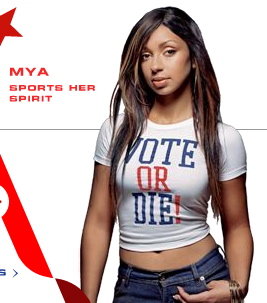 It might seem important to you, but today is a BIG day in the United States. It is time to exercise a right that many people were denied less than 40 years ago. It was so serious that many died trying to participate in the political process in a country that was built on the sweat and blood of those that received the least of opportunities to participate. Don't waste this opportunity to be heard. You will never know if a difference can me made if you don't try to affect change. A change can be made at the polls today. You have a choice in the matter so don't miss your chance to choose! Be there.
Check out the tight video from M1 of Dead Prez! It's right on time for Election Day! The voices and images of the hip hop community can influence whether our young show up at the polls. Represent right today young people of America. It's your right!
Watch the news, read the newspaper, go to the internet and read about the candidates and proposals on the ballot in your state or town and see how you want things to go. It's your turn to decide. Make the most of it! Whatever you decide it is better than not making a decision at all and sitting this election out. That is the last thing we need in these times.
Peace,
The Funkadelic Relic
DJ's and Beat Diggers click the images and see what happens. Check out the links! Touch the record with the cursor. Go on, you know you want to feel that 12" disc in your hands. It's O.K., we understand how you feel. That's why we're here. If you're like me you are addicted to this wax. No need for rehab though. It's O.K. You want to put those records on those turntables (preferably Technics or Vestax touch them with your fingertips and spin 'em. If that is the case and you need to talk to me,
click right here, and send me a note.
That's why you're in the zone and we understand that you know that you can create with the wax, mold it, shape it, until you have created that work of art. Go ahead, touch the records below with your cursor. Like ancient artifacts. Relics. Stay in the zone with the Funkadelic Relic. Walk with me. I'm here for you. Check 'em out.





Click the images!


Click the images!

HOT LINKS:
DJ's, BEAT DIGGERS & VINYL JUNKIES- CLICK HERE FOR VINYL ON eBAY!
CLICK HERE TO VISIT JUMBLE RECORDS!

Get instant access to Rock, Hip-Hop, Pop, Country & more at CONNECT™ Music


Click
here to submit your site to the search engines for free!