For the DJ's Spinning Vinyl, Beat Diggers, Hip Hop Culture, Vinyl (Record) Junkies, Fashion & Lifestyle.
Explicit Content

- Parental Advisory
*Best viewed in Internet Explorer*
Click here to go to The Funkadelic Relic's MySpace Page
CHECK THIS WEEK'S FEATURED CD'S & MORE!
Click on the image above: West Coast G-Funk 2006! The Game returns!
CHECK OUT SOHH DAILY HIP HOP NEWS!

DJ's, crate diggers & beat diggers: Click here for vinyl records on eBAY!
The Blog for Beat Diggers, Vinyl (Record) Junkies & DJ's still spinning vinyl worldwide!!
Click here
or on the image above. It's very serious.
November 26,2006


For all the marbles in college football in 2006.
Happy Holidays! Yes they are upon us! I previously wrote about Hip Hop & Sports and wrote about my hometown sports superstar, (Pretty Boy)Floyd Mayweather. Since the last post the Michigan Wolverines were beaten by Ohio State 42-39 in a thrilling contest (and probably the most important game of the regular season) that went down to the final 2:16 before it was actually decided. To make matters worse, on the day before the big game the former longtime coach of the Michigan Wolverines Bo Schembechler passed away while preparing for his weekly television show. Bo will be missed by Michigan's faithful fans. Ohio State Quarterback Troy Smith (he has to be the frontrunner for the Heisman Trophy) was brilliant and congratulations must go out to the Buckeyes. Maybe the BCS will do the right thing and give the Wolverines a shot at the National Championship. Of course it may be politics as usual. The real college football fans know that the 2 best college football teams in the nation are in Columbus, Ohio and Ann Arbor, Michigan. Even though USC won their game against Notre Dame (Michigan smashed Notre Dame in South Bend), Michigan still deserves a shot. We will see how it all shakes out.
BIG shouts and congratulations go out to Kelvin & DeMarcus Grady who led East Grand Rapids High School to the Michigan Division 3 High School Football State Championship over Farmington Hills Harrison 42-17! Grand Rapids/Gun Rule Stand Up!! Click right here and get all the details.
Enough about sports. This post is about Gun Rule (Grand Rapids, Michigan) and it's rich past, present and future in hip hop music and entertainment. Starting with the DJ's. First up on the list are the guys who are seriously holding it down around here right now. DJ Buscat and DJ Head are like the dynamic duo for real. These cats are pulling crazy crowds and making all kinds of noise in the hood. I first saw DJ Head settin' it off at the Howlin' Moon. The crowds out there were just ridiculous. DJ Head had the place on smash when I was there. Much respect to this kid. I saw him on the documentary (Microphone Representation: Produced by DJ Word on GRTV) when he was just a Shorty and he was getting quite busy on the ones & twos with wax) Now everywhere Buscat & Head go the spots are on fire.
I first met Buscat way back in the day when he was playing YBA Basketball at the downtown YMCA. He was about 11 years old. I had a friend that was the coach of his team and I would help him out on Saturday mornings. I never imagined that this kid would grow up to be such a great DJ and most of all a marketing mastermind in his own right. If you haven't looked at their sites look at the previous paragraph and click the links and check their affiliations. Check below to see how DJ Buscat is serving it for the holidays!
On the grind in Gun Rule. Beats with nothing but heat. Click the flicks below or the image above
to go to DJ Buscat's site! Looks like a good time!
Click the image below to check out how DJ Dub is serving it now!
Click on the image below to check DJ Lil Mack's MySpace page.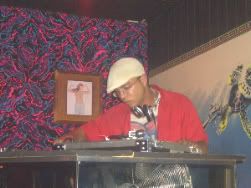 Head back towards the real hood straight south on Martin Luther King Blvd (Division St) in Gun Rule to the Azucar Nite Club and you will find DJ Dirty Flem doing his thing. One block south you will find La Stanza Nite Club. I need to know who is the DJ there now? I know that DJ Head, DJ Buscat and Dirty Flem have definitely been up in that spot and La Stanza (if that is still the name of the spot, the name has changed several times over the years) has hosted some live events in the past few years.
I have always given mad respect to those DJ's that will spin in the underground spots. One of those DJ's who has consistently rocked the after hours spots and those clubs where few DJ's will go and kept the party hot is DJ Quazar. Quazar was holding it down at Stingers Night Club (on College Ave, the old Squeeze Inn/Hideaway Bar) until they had some unfortunate violent incidents that caused the club to close. (Click here to read about the Stingers shooting that practically shut it down) Quazar has been on the scene for about 15 years now and has mix cd's all over the hood and some of his mix cd's have turned up in other cities all over the US. He started out like most great mixtape DJ's on a double cassette deck creating edits that he sold to his friends and the word spread like wildfire. You can catch Quazar in the mix on most weekends at Grand Rapids Elk Lodge #1029, 1546 Linden SE. Anybody who hangs out a lot in Gun Rule knows that "The Elks" is jammed on Thursdays and Quazar is serving up the hip hop/r&b mix that leaves the patrons soaked in sweat at the end of the night. Check him out.
Lester Key aka DJ Alski also has made major moves on the hip hop scene in Gun Rule. Offbeat Productions was the record pool for the majority of the DJ's in the hood back in the mid-90's. Lester kept everybody laced with the hottest music. He is now the owner of Car Tunes and Tanglez Beauty Supply at the corner of Franklin & Eastern. It's right in the heart of the hood. If you want your beats banging in the trunk go see Lester. Lester held it down at Miracles, The Half Moon, Electric Avenue and the American Legion Crispus Attucks Post on Commerce and countless other after hours spots, wedding receptions and family reunions back in the day along with his right hand man Duane Guyton.
Back in the day you could cruise down what is now Martin Luther King (Division St) and at Wealthy you had So-So's (Big Craig on the sound system). Up the street there was Bill's Retreat, later called Club Pizazz (the building that now houses Azucar) Randy Franklin got it started, David Cain picked up the torch, Quazar was down there. Go one block south and there was The Limelight (C-Note held it down). A straight shot south to Delaware St at Noel's Lark and Big Steve (R.I.P.) and Little Steve used to rock it there. At the Squeeze Inn (previously The Hideaway) Mark Newton definitely had the place jumpin' back on College & Cottage Grove.
One of the DJ's who really made a mark on the Grand Rapids hip hop scene was one of my homeboys, DJ Brown Hornhit. I first met Brown Hornhit at the "Showtime Productions 4th of July Stop The Violence Picnic" way back around 1987-88. He was about 12 or 13 years old at that time and I was helping with mixing sound and spinning with DJ Alski (Lester Key), DJ Dwayne Guyton & DJ Spinmaster and when I was on the wheels, this kid stood right there with me the whole time asking all kinds of questions. I could tell by the questions he was asking that he really wanted to become a DJ and he was still just a kid.
The next time I saw him was at Ottawa Hills High School at a school dance and he was only in the 9th grade. I remembered this kid and he told me right then that he had been spinning and from talking to him about the best songs that the kids would like I knew that he knew which songs would make the crowd move. (I needed that help because at the time I was doing grown folks clubs and I would hear the songs that the kids would like and I even was receiving them from a record pool at the time but just didn't have time to go through all of the records that kids would like because my attention was focused on the clubs. I just happened to grab this high school gig that week.)
I asked him (even though I knew what his answer would be) if he wanted to spin for a while and of course he said yes. I told him to go through the crates first and find the stuff that he wanted to play so he wouldn't have to look for the records since he wasn't familiar with my crates. Every DJ organizes their crates their own way and I tried to organize by tempo at that time. He selected some very good songs and definitely rocked that spot that day and since he went to the school you know that the kids gave him love and got right on the dance floor. I even got on the mic and tried to make sure that they all knew that it was one of their own that was putting it down on the wheels of steel.
To make a long story short. I did a LOT of work with this young DJ over the years and he really put in crazy work and paid mad dues in Gun Rule. He got a job at the local radio station and learned everything he needed to know to practically run the station (especially from the technical aspect). He learned how to produce commericals, program the music and became one of the best in the business in a very short time. That is what happens when one is passionate and has faith. This young man kept his focus despite all of the distractions that can be placed in a young man's path to success and he was not to be denied. Below are images of some of the early work that DJ Brown Hornhit put in around the city back in the day.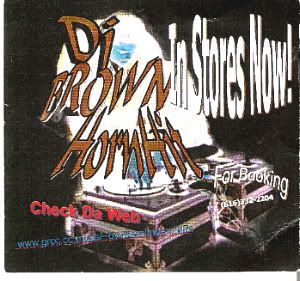 Click the image to visit DJ Brown Hornhit's MySpace page! Currently Brown Hornhit is the music director for WPGC FM 95.5 in Washington D.C. Radio legend Donnie Simpson (former host of BET Video Soul) is one of the air personalities on that station. Donnie Simpson is one of the most respected radio air personalities in the nation. Big Tigger (former host off Rap City and BET on air personality) is also on the same station on weekends. Brown Hornhit is in very good company! Here are a few more crazy flyers below from Brown Hornhit's early beginnings!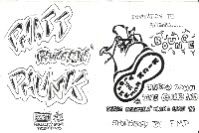 Ben, Mack, Aaron, J-Soul, Rob Walker & The Sey Whut Crew, Troy, Vince, Bennie, Bobby, Corey, "Georgious", Frank, Skee, Jody, Duane, Jack, Sharon, Tishaun, Jeannie, Tyson, Marcus, The Figures Family, Rhonda, Sally, Mary, Billy, Cynthia, Big Larry, Avery, Kamario, Gus, Michelle, Aunt Ruth, Aunt Jane, Andre, Uncle Snook, Tracy, Kirk, Stan, Val, J-Stone, Alvin, "Really Good" Rod, Smug, Stan, Doug (R.I.P.), Little Red (R.I.P.), Shimon (R.I.P.), Brown's Funeral Home, Backstage Catering, Straight Up Pop, G.R. Neighborhood Services & Mentor Program, Mayor Logie, Chief Hegarty, James Farris, Kevin Braggs, Dispersive Measures, Bernard Macklin, David Cain, Noah Seifullah, Heaster Woods, Dr. Stephen Cohle, Michael B. Johnson, Michael Johnson III, Rev. Nathianiel Moody, Nate Jr, Ken, Equality Magazine, Community Empowerment Center, Rob Ladew, Jose Flores, Randy Brown, Maxi's Night Club, Freddie, Lark, Bob Matthews (R.I.P.), Fat Jack, Melvin, Kevin Kilgore, Clutch, Rodney Brown, Tracy, Griff The Gift, Euro-K, The Realist, Vito, Freeze, Trent, Shonski, Andrea, Moms, Doc, L. White, Joe, Inch High, Adam, Damien, Mean Mark, Jumbo (J-Rock), Rodney & Tyreese (Guyton), Greg Rapier, N Us We Trust, Buttaroo, Dice, Bobby, The Durr Family, Kiddo, Iceman J, Freaky, Eric "Freaky" Walton, Jeffrey Dean, Darren Dean, Lavelle Waltrip, Rocky, James Staten, The Flowers Family, Icey Mike, Dre, Dennis Witherspoon, Dante' Young, Mark Hopson, Mike Hopson, Guts 2 Cut, DJ Spinmaster, Offbeat Productions, Lester Key, Duane Guyton, Izzy Dope Boys, The Wealthy Boys, La The Darkman, Nappy Head Assassins, Sid Swift, Moe, DJ Big Napp, Tyson, Heavy Game Records, Todd, Sterl, Boog, Red Eye Records, Billy, Kareem, Troy, The DeBarge Family, Mike J, The Realist, Mass, JV, Skinny, Randy, E-Nutts, EJ, Dukem, The Huff Family, Manchild, Sheldon Complex Advisory Council, and all of the rest of the Showtime crew and affiliates made it happen and if your name is not mentioned here it is only because I forgot about you when this was written but you KNOW it's all love. XTRA SPECIAL THANX TO J-OTT (INDEX 968: THE EDIT ASSASSIN) OF MYWEIGH RECORDS FOR THE LOGO DESIGNS! U KNOW I OWE YOU BIG TIME!! I LUV U MAN!!
DJ's get that love @ Vertigo Music!Click the image above!
DJ's and Beat Diggers click the images and see what happens. Check out the links! Touch the record with the cursor. Go on, you know you want to feel that 12" disc in your hands. It's O.K., we understand how you feel. That's why we're here. If you're like me you are addicted to this wax. No need for rehab though. It's O.K. You want to put those records on those turntables (preferably Technics or Vestax touch them with your fingertips and spin 'em. If that is the case and you need to talk to me, click right here, and send me a note. That's why you're in the zone and I understand that you know that you can create with the wax, mold it, shape it, until you have created that work of art. Go ahead, touch the records below with your cursor. Like ancient artifacts. Relics. Stay in the zone with the Funkadelic Relic. Walk with me. I'm here for you. Check 'em out.

Click the image below to read about the Floyd Mayweather & Philthy Rich Records Thanksgiving Celebrity Weekend!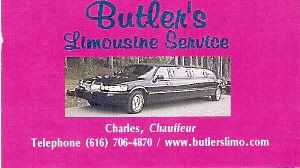 HOT LINKS:
DJ's, BEAT DIGGERS & VINYL JUNKIES- CLICK HERE FOR VINYL RECORDS ON eBAY!

Get instant access to Rock, Hip-Hop, Pop, Country & more at CONNECT™ Music


Click
here to submit your site to the search engines for free!