For the DJ's Spinning Vinyl, Beat Diggers, Hip Hop Culture, Vinyl (Record) Junkies, Fashion & Lifestyle.
By The Funkadelic Relic
"Sick" and "ill" are words that immediately come to mind when I took the time to listen to House Shoes Presents: King James Version. Big shout out to House Shoes for
blessing me with the advance press version
. I will definitely have him and his family and the entire 313 Hip Hop Community in my prayers wishing them nothing but peace and prosperity for the holidays and beyond.
Shoes, (now located in Los Angeles, CA) co-drafted the blueprint for the sound you now hear coming out of Detroit inspired by
the late great James Yancey also known as J. Dilla
. Slum Village, Proof, Guilty Simpson, Phat Kat, Black Milk, FattFather and anyone familiar with
St. Andrew's Hall
or
Maurice Malone's Hip Hop Shop
can tell you about the importance of his contribution to Hip Hop since the early 90's.
The new album is a tribute to House Shoes' friend and fellow beat digger J. Dilla and
all of the tracks were taken from original vinyl
. When I listened to the breaks and sounds that were used on the album which was mixed and arranged by House Shoes and recorded by LA's
Rhettmatic
of the Legendary
Beat Junkies
I could envision this album as a soundtrack to a day of diggin' in the crates with Shoes and Jay Dee and what they would do during that day. Dig in the crates, find breaks and chop beats and make original fresh music.
The music is what drives House Shoes. Not the music industry. The industry is something he really doesn't want to be a part of and who can blame him? Most hardcore Hip Hop Head are of the opinion that the music industry sucks and always has. Radio, retail and mainstream media really don't know what Hip Hop Culture is all about and they certainly don't respect it.
Make sure that if you really want to experience what Detroit Hip Hop is all about and if you are already a fan of Shoes you're going to be right there when this joint drops on Christmas Day with your debit card in hand in front of your PC, laptop or whatever to get it in your iPod as soon as it is available.
I couldn't think of a better holiday gift
for any true fan.
Do you want to hear a sample?
*
Artwork & Liner notes by Black Kerouac
*
Play Track 1: "A Legend In His Own Time-4 Dilla"
Click the image below to check House Shoes on MySpace


*Image credit: motorcity.deviantart.com

Click the image below to check Rhettmatic on MySpace



Click the image below!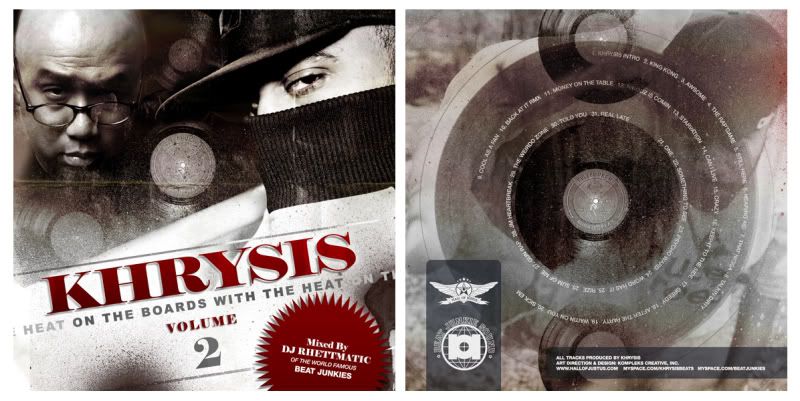 myspace.com/khrysisbeats

Click the image below!

Check out the Amazon.com aStore!
MAD LINKS
GrandRapidsHipHop.com
GunRuleTV.com
Talentsville.com
ToonzWorld
Da Blaq Hole
The Spinzone Blog
Spinzone Records
-Vinyl Records All Day!
The Spinzone aStore on Amazon.com
The Funkadelic Relic's-MySpace Page
The Funkadelic Relic's Rawkus.com Profile
Discogs Profile
Discogs Items For Sale!..MORE VINYL!
Mittman Productions
Hollowell Art
Your Brutha brub
Your Brutha brub's B.I.B.L.E.
The Grand Rapids Hip Hop Coalition
The Universal Zulu Nation
The Aphilliates: PAY ATTENTION!
DJ Drama
DJ Don Cannon
DJ Buscat
Willie The Kid
DJ Head DeBiase
Blokhead Entertainment
The Talented Tenth Non Profit
CF1 Entertainment
DJ SuperDre
"The Edit Assassin": Index 968
MyWeighRecords.com
FUNKmont: Jam-Is-On Records
Brown-Lyle Entertainment
1 Drum Productions (for Brown-Lyle Entertainment)
Go TEL Media for Brown-Lyle Entertainment
Philthy Rich Records
Wealthy Family Records
FireproofMusic.com
Fireproof MySpace Page
Click the images below!
View my page on Grand Rapids HipHop
Visit Grand Rapids HipHop
View my page on GUNRULE TV!
Visit GUNRULE TV!
src="http://ss.webring.com/navbar?f=j;y=;u=">



Powered by WebRing®.